The History of Satellite Monitoring and Satellite Hacking - Part 3
The Satellite Hackers
V. 1.0 - 21.02.2003
V. 1.1 - 05.10.2004
V. 1.2 - 10.06.2008
Copyright (C) 02/2003 by Howard Fuhs
This group of people are an offspring of the tv satellite hackers and most of the early ones were simply bored by only being busy with tv signals. They were searching for other new signals to be heard or to be analyzed and decoded. Support came from engineers working in the field of communication who joined them offering informations and knowledge.
In the mid 80's this group was steadily increasing as appropriate and powerfull receiving equipment became affordable (e.g. YAESU FRG9600 VHF/UHF Communications Receiver) and antenna designs were published for home made satellite antennas (e.g. Helix antennas for receiving circular polarized signals).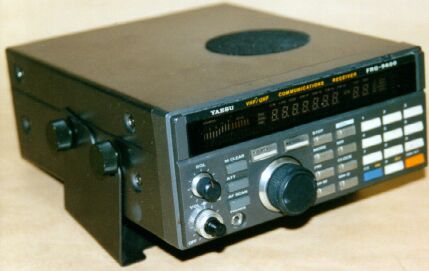 Figure: Yaesu FRG-9600 VHF/UHF Communications Receiver
Also more and more phased out commercial and military equipment became used by the satellite hackers. So it was no wonder that by the early 90's the Satellite Hackers were not only able to listen to any analog satellite signal which was transmitted in a range from 20 Mhz up to 25GHz, they also started to analyze digital signals using phased out commercial signal analyzers or suitable software for personal computers.
These satelite hackers had one thing in common - the were just passively listening to signals they could receive and did not interfere with the infrastructure as such or specific transponders or signals.
Freeloaders
Things changed in the mid-90's when Freeloaders started to broadcast their own tv signals over unused tv satellite transponders. This led to additional "programming" which was worth to receive (or to hunt down) as it often was pornographic material which was broadcasted and the broadcast itself was not very long, usually shorter than 15 minutes in the beginning, as the Freeloaders feared the detection through the satellite owner or governmental agencies. It was allways a nice catch for a satellite monitor to receive a Freeloaders program.
In the meantime other groups discovered the posibility to use military communication satellites as a relay for international communications and for placing telephone calls. They used satellite systems like FleetSat and UHF Follow-On (UFO) for introducing a wide ranging net of stations which allowed abroad working people to make phone calls home for the price of a local call.
Despite the fact that Freeloaders are trying to be very carefull and not to disturb any of the legitimate satellite users some must draw here a clear line and say that the active usage of satellite communication capabilities is no longer covered by the term Hacker.
Monitors
At the outer rim of the Satellite Hacking Community was soon a new group of monitoring folks established. They did not dig to deep into the technology but started to constantly monitor one medium of their interest. The more harmless Monitors where specialized for example onto receiving broadcasts from environmental satellites (weather data). But some of the Monitors were specialized into listening to commercial communication satellites almost around the clock. I met Monitors who admited to listening to telephone conversations over systems like the analog INMARSAT all day like
normal
people are listening to the radio during their office hours. The problem here was simply that these people invaded the privacy of the phone calls by listening to them. Some even recorded constantly the phone calls in case something
interesting
was discussed.
As some might know, especially the analoge INMARSAT system was also used for fax transmissions. It didn't take long and the monitors were able to decode also the wireless fax transmissions over satellite. Some of the most interesting faxes even were published in a satellite magazine just to show how bad the world is as the contents of the faxes seems to have criminal intend.
One of the newest groups of satellite monitors comes nowadays from the computer field. They do not have deeper knowledge to satellite systems but managed to set up a monitoring station which is more or less constantly monitoring available Internet-Over-Satellite systems. These people listen to the satellite downstream and see what kind of websites a user is visiting or reading his e-mail when he is connecting to his mailserver.
I invite your suggestions for revising this document. I plan to review and revise this document as the need arises.
Copyright (C) 02/2003 by Howard Fuhs
All Rights Reserved!